House Update 6/13-6/23
Well, things are just zooming right along and I'm just holding on for the ride!
They say that when something is truly meant to be, the pieces will fall into place without your having to force anything to work.
That seems to be the case with our house.
But I did get paints picked out!
Here are the colors I am going with...keep in mind, though, that your computer may not reflect the actual color...it's really one of those 'you need to see it in person' kinda things. Ya feelin' me?
But here ya go!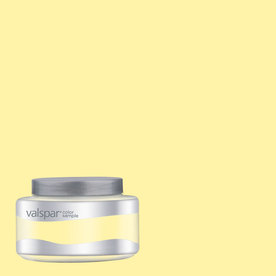 Technically, we used Sherwin Williams' "Tea Light"...but the online sample looks a beige-y gray color...when it's really a light yellow. So I found a similar-looking shade to put on here. Sorry, Valspar.



"Tea Light" is going to be the main color in the family room, kitchen, dining room, living room and the boys' room. A few of those rooms will also have an accent wall.

Sherwin Williams "Holiday Turquoise"
"Holiday Turquoise" is going to be the accent wall in the family room/playroom.
Sherwin Williams "Bora Bora Blue"
"Bora Bora Blue" is going to be the accent wall in both the boys' bedroom and Mahri's bedroom.

Sherwin Williams "Ash Violet"
"Ash Violet" is going to be the accent color in the living room and in my bedroom.
And being that I am sick and not thinking clearly, I completely forgot to commit to memory the names of the shades I am using on the kitchen cabinets, hallway, my bedroom, Mahri's bedroom and bathroom walls.
But I DO know that it is a creamy white color on the kitchen cabinets.
And an off-white in the hallway, bathroom and in both my and Mahri's bedrooms.
So...let me straighten this out a bit:
Family Room/Playroom: Tea Light with Holiday Turquoise as accent wall
Kitchen: Tea Light with cream cabinets
Dining Room: Tea Light
Living Room: Tea Light with Ash Violet as accent wall
Boys' Bedroom: Tea Light with Bora Bora Blue as accent wall
Hallway: Off-white (to give it a feeling of open-ness)
Bathroom: Original tiles with off-white on the upper walls
My & Antonio's Bedroom: Off-white with Ash Violet as accent wall
Mahri's Bedroom: Off-white with Bora Bora Blue accent wall
Whew. Did any of that make sense? My head feels like it's full of cotton...
So, yeah...paint colors are picked out and the painters have already begun painting!!
And I also ordered the boys' beds. They are going to share these full-over-full bunk beds.
Levi and Austin will share the bottom and Christian will have the top bunk.
HOLY CRAP, PEOPLE!! On the lines of things just falling into place?? Well, this bed I bought for them? I went onto Walmart's website...where I bought them from for $367 a week ago...they are now $630!! WHAT?!! See what I mean? I needed full-over-full bunk beds but never could have afforded to pay that much for them! And apparently they almost doubled in price right after I bought them. Woah!
Onto the dealio with the flooring....
The family room and kitchen and my bathroom have vinyl flooring that looks like wood floors.
I like them!
But the rest of the house had old carpeting that I really wasn't digging.
(the main bathroom, however, has the original tile floors!! And Mahri's room has the original hardwood floors!!! eeeee!!!!)
So they said that I could choose between having the carpets cleaned, replaced or similar wood-looking vinyl flooring being put in.
I chose the vinyl.
Well, they called the other day after ripping up the carpet.
They found the original hardwood floors under the carpet!! Still in decent condition!!
(Thank you, previous owner, for not ruining them!!!)
So they are going to sand them down and refinish them!!
Yay!!
Now...I went to check out the house and see what I think so far.
I'll bet ya'll would like to see pics, right??
Hmm...well, it's a good thing that I took my camera, right? ::wink::
I'll warn ya: I only took a few pics because there isn't that much to show yet.
But here is what the family room looks like:
They still need to finish the doors to the closets and paint the insides. We are going with Tea Light inside the family room closets, too.
I think it looks kind of beachy, don't you?
::big smile::
I was afraid that the yellow would be too bright, gaudy and overpowering...but I think it turned out perfect!! And it looks great with the white trim! See my wood-burning fireplace peeking in there?! (Sadly, I'll never be able to use it since I have asthma...but it's still pretty!)
And see how pretty the hardwood floors are (in the pic after this paragraph)? They are going to be sanded down and refinished, though, because there are some scuffs and stains.
Well, that's all I got for now, folks.
I'll post another update here soon!!
Later, once the house is done, I'd like to post side-by-side Before & After pics!
What do you think?